Nomura Asset Management Singapore Limited (NAMS) is a wholly-owned subsidiary of Nomura Asset Management Co., Limited (NAM).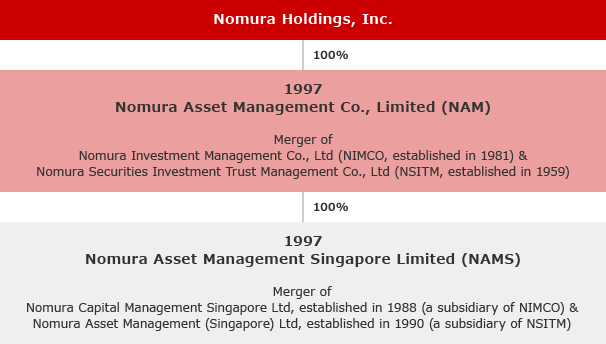 NAMS is NAM Group's strategic hub for investment management of Pacific Basin ex Japan equity and fixed income portfolios and marketing/client services centre for the South East Asian region in particular.
NAMS holds a Capital Market Services Licence for Fund Management granted by the Monetary Authority of Singapore.

Our approach to asset management is based on our firm belief and conviction that sound research and insightful analysis of market and company fundamentals are of paramount importance to investment performance. NAM covers a wide spectrum from global macro-economic trends to detailed assessments of individual companies.
For our Pacific Basin investments, we anchor on four investment approaches,
Active management based on fundamental research
Combination of top-down and bottom-up approach with a bias toward stock selection
Portfolio risk control to produce stability of returns
Team approach for consistency across all portfolios
We emphasize on local management of our clients' assets. The expertise of our research and portfolio management staff is crucial to the construction of a specialist portfolio. Portfolio managers and analysts for our regional mandates are located in Singapore, Hong Kong, Shanghai and Malaysia, giving them close proximity to the markets and our clients.
We are fully committed to provide unwavering attention to our clients' investment objectives and needs.

NAMS is responsible for geographic coverage of South East Asian region, in terms of marketing the Group's products and client servicing.
Our product range covers various investment solutions including discretionary or advisory for segregated accounts, pooled products, and mutual funds. We cater and customize to different benchmarks and mandate types such as Pacific Basin ex Japan regional and single-country, High Yield and High Concentrated, Small Caps companies and Absolute Return equities and bonds portfolios.
Tapping on the combined expertise of our Asian team in the region and Japan team in Tokyo, we work with NAM in managing Pacific Basin Including Japan equity mandates.
Apart from Pacific Basin equity investment capabilities, institutional clients can also gain access to the Group's global institutional investment capabilities in various asset classes.
Our goal is to provide our clients with consistent investment performance and optimal quality asset management services through in-depth research and innovative risk management techniques.
NAM believes we could contribute to social community through asset management business. In order to achieve this, we aim to provide more value-added products and services by enhancing our investment management capabilities and infrastructures with more attractive and innovative products and strategies and to actively engage industry players to better understand market's appetite and investment trends.

Nomura Asset Management Singapore Limited
10 Marina Boulevard,
Marina Bay Financial Centre Tower 2, #33-03
Singapore 018983
Business Registration Number (198800900W)
General Line:

(65) 6433 9088

Facsimile:

(65) 6433 9099

Email address:
For enquiries on data privacy policy, please write to dpo@namsg.com.sg